Log Home Living, July 2001




"Appalachian Roots"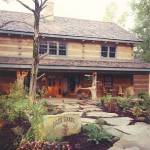 When Randy Giles moved to Tennessee in 1981, he fell hard for the weathered charms of the old log cabins that dot the rolling Appalachian foothills around the town of Dandridge. He canvassed the area for the perfect spot to build his own log home, one, which would blend seamlessly with the town's historic hand-hewn structures. "We've got rugged hills and wooded areas where you could build a log house and feel like it might have been built on that same spot some 200 years ago," says Randy, who eventually settled on a 70-acre forested lakeside track. Before choosing a log home company, Randy interviewed local folks whose log homes he admired and asked them for recommendations.
When the name Hearthstone surfaced again and again, Randy arranged to meet the company's owner, who had founded the business years before while doing restoration work on historic log homes. Randy liked the product so well, he became president of the company in 1982, and bought the business two years later.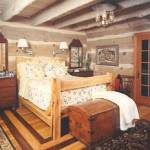 Like all of Hearthstone's log houses, Randy's home features dovetail corners and chinking. "That's our signature, because that's how old log homes were built," he says. "The culture of the company is still very much driven by the 200-year-old structures that Hearthstone started out restoring." But Hearthstone's Bob Timberlake homes take this old-fashioned aesthetic appeal a few steps further. Whereas other Hearthstone lines feature logs that are hand hewn flat on all four sides, facilitating the manufacturing process, Bob Timberlake homes boast timbers that are irregularly shaped on the top and bottom, just as a pioneer might have left them.
The logs used in the Bob Timberlake line are also particularly massive, varying in height from 12 to 24 inches, depending on the natural shape of the tree. The width of the logs, which are hewn flat on the sides, ranges from 6 to 10 inches. The result is a considerably more rustic, traditional-looking log home.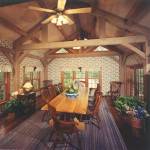 Randy's home, which was constructed by local builder Charles McSpadden of McSpadden, Inc., also incorporates a timber-framed dining room, showcasing Hearthstone's ability to produce high-end log and timber frame homes. Hand-hewn, sandblasted eastern white pine, which shrinks and checks less than other types of timber, was used for both the log and timber frame sections. "The sandblasting makes it look like what the weather would have done if the home were 200 years old," says Randy, who took great pains to carry that rugged appeal through every aspect of his home.
In the kitchen, Randy selected limestone tile that had been tumbled in a cement mixer with gravel and sand to give it an aged appearance. To achieve a similar look in his master bedroom, Randy cut marble slabs from scrap at a local quarry, then sandblasted the tiles and hand-chipped the edges with the help of his then 8-year-old son. "I wanted it to look like very old paving stones," Randy says. To make his modern jetted tub blend seamlessly with the home's ambiance, Randy encased it with irregular, handmade bricks, purposely leaving the joints rough and unfinished.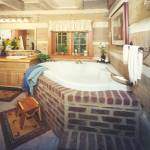 The hickory cabinets in the bathrooms and kitchen are all-handmade and feature hand-forged iron hinges. Three-inch-thick oak countertops, as well as wide-plank oak floors throughout the first floor of the home, were salvaged from centuries-old trees destroyed by fire at a local tavern. "The guy that owed the place was just going to push them over with a bulldozer because they were burned," Randy says. "But I said, 'They're not burned in the middle!' "
The kitchen also features one section of granite counter top near the sink and stove. "It's honed, rather than polished to a reflective gloss, which might look sort of out of place," Randy says. Matching granite accents are embedded within a mammoth, antique cast-iron wheel, which sits atop a cedar stump harvested from Randy's property to form the one-of-a-kind kitchen table, made by Hearthstone.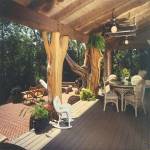 In the great room, a shallow Rumford fireplace, based on a design dating back to the 1700s, is made of crab orchard stone and catches the eye. "It looks like dry-stacked stone, the way it might have been built years ago," Randy says, adding that he did update it with a built-in niche for a television. Randy's favorite aspect of the fireplace, though is its warmth. "The shallowness of the firebox allows it to reflect a pretty incredible amount of heat back into the room, rather than just sucking it up the chimney," he says.
The second floor, which is home to the laundry room, two bathrooms, three bedrooms and a balcony with two computer workstations, is the domain of Randy's children. A favorite feature is the cedar tree in the boy's bedroom. "When I cleared the land for the house, the kids cried because I had to cut down the cedar tree that they climbed in," Randy says. "The only way I could quiet them down was to tell them I would put it in their bedroom inside the house, " he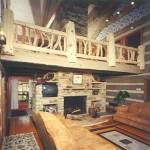 continues. "Now, that tree is the ladder to their play loft."
The central balcony, located between the boys' and girls' bedrooms, also is made from cedar reclaimed from Randy's land, and several harvested trees were used as posts on Randy's front and back porches as well. On the porches, the tree trunks were left in their natural state, their branches seeming to reach out to welcome any and all guests.
It took 14 months before the home was ready for Randy and his family to move in, and six more months to complete the fine details. But, nearly 20 years after Randy decided to build a log cabin, he finally has the home of his dreams. "If you're going to do something unique and customized and special, you should be at the right spot in your life, and it should match your needs," Randy says of his home building journey. "It will take a lot out of you," he continues, "but it's an extremely rewarding experience."
Archive here for full project details. (from the old web site)